TNT Homes For Sale offers this Sunrise Park Trincity Townhouse for sale. Pleasant 3 bedrooms townhouse tastefully furnished equipped and fully air-conditioned. Complete with 2 1/2 baths situated in a double gated community of Eventide Court – Sunrise Park, Trincity with 24 hr security.
Eventide Court Sunrise Park Trincity Townhouse For Sale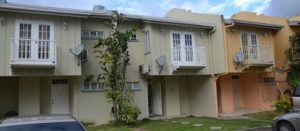 Area: Sunrise Park | Trincity
Bedrooms: 3
Bathrooms: 2.5
Parking: 2
Size: 802 sq ft
Price: TTD: 1,550,000.00 (neg)
Contact: (868)-759-1712
Ref#: TNT1124
On the lower level of this townhouse and just through the entrance is the well-appointed kitchen complete with stainless steel appliances. A powder room, laundry enclosure and the Living and Dining areas complete the lower floor. Rooms are fully air-conditioned and tiled.
Three bedrooms–including the master bedroom–are equipped with built in cupboards and reside on the upper floor and are air-conditioned. The master bedroom boasts an en-suite bathroom with another full bath in the corridor.
Parking is available for 2 vehicles in front of the unit and offers easy access to the Trinity College East. Location allows easy access to Trincity Mall, The Millennium Lakes Golf Course, highway, banks, restaurants,  Piarco International Airport and numerous businesses and several other amenities, shops are all within a one-mile radius.
Townhouses are great for security and young couples. HOA fees are affordable and covers security, basic maintenance etc.
Buying a Home – Tips
Are you buying a new home or first time home owner? What is important? Talking to a mortgage specialist is a step in the right direction. Home mortgage specialist can share rates and compare rates in the industry.
Balmatie Minwah – Mohammed
Mortgage Specialist
                                       Tel: (868) 764 8926
Do you have a home for sale in Sunrise Park Trincity? Land for sale in Trincity for sale? Thinking about selling and need advice? TnT Homes For Sale can help.
Searches related to Sunrise Park trincity townhouse for sale
House for sale in trincity
Land for sale in sunrise park
Gated community in east Trinidad
Home for sale in trincity
TnT Homes For Sale On Facebook
gated community home for sale in east trinidad
luxury trinidad and tobago homes for sale