TnTHomesforsale.com offers this San Juan Home for sale in Trinidad. Home with lots of yard space makes it ideal for a large family. Location is key with the sale of this property. Walking distance from Republic Bank, FCB and RBC.
Buy This San Juan Home For Sale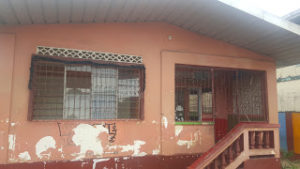 Area:  Second Street | San Juan 
Bedrooms: 4
Bathrooms: 2
Parking: 4
Size: 4,900 sq ft
Land: Freehold
Price: TT$: 1,800,000.00 (neg) .
Contact:  (868)-759-1712  
Ref: TnT1075
Fixer Upper Four bedroom house for sale in San Juan city of Port of Spain. An ideal location for a combination of residential and commercial use.
Main House
Bedrooms – (3)
There are three bedrooms. Three 12 x 12 bedrooms. Floors needs carpet or tiles.
Kitchen
A small kitchen that needs updating.
Living Room
Large space can be used for a living and dining room area. Floor is tiled but will need updating.
Porch
A small 8 x 10 front burglar proofed porch
Yard
Approximately 10 x 10 sq ft of yard space is available on both sides of the property.
Back House
Apartment come with the following:
(1) Bedroom
(1) Bathroom
Living room
Kitchen
A nice size one bedroom apartment can be used for additional income or additional storage.
Fixer Upper San Juan Home For Sale – Great Investment
Location is important for pricing. An investor can build a second level for income purposes.
One block away from the Eastern Main Road, San Juan is Second Street. Making this prime real estate in Trinidad for sale. RBC, Scotiabank and FCB are commercial banks within walking distance. Transport is available through a reliable taxi service and the Priority Bus Route.
Roof was recently done and is in very good condition.
Generally speaking housing options in San Juan, Aranguez, El Socorro, Barataria and environs are limited. Buying a home for sale in San Juan will have the following benefits:
Paying towards something you own – If you're renting, your monthly check goes toward something that will last you a month: You'll never see any return on that money. When you buy a house, your monthly mortgage payment goes toward an investment—and ultimately a roof that's yours.
Consistent mortgage payments – Rent goes up almost every two years. With a fixed mortgage you monthly payment will not increase.
Freedom to Upgrade – Modernize your kitchen, paint your home's exterior neon orange, change your fixtures or replace your carpeting; whatever inspires you, no one can tell you, "No!"
Buying or selling real estate in Trinidad and Tobago is easy with the services of TnTHomesForSale. Give us a call today 868 759 1712
Searches related to San Juan Home For Sale
home for sale in east trinidad
property for sale in san juan trinidad
trinidad and tobago homes for sale
new san juan home for sale