Located in a highly sort after neighborhood is this Champs Fleurs home for sale. Location and view determines the asking price of this property. Hilltop Drive Champs Fleurs boasts a fantastic view of the Caroni plains and surrounding areas.
Champs Fleurs Home For Sale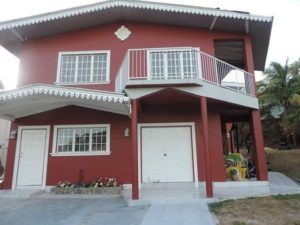 Area: Hilltop Drive | Champs Fleurs
Bedrooms: 6 (2 en-suite)
Bathrooms: 4
Parking: 2
Size: 5,000 sq ft
Price: TTD 4,500,000.00 (neg) .
Contact: (868)-759-1712
Status: Available
Champs Fleurs Trinidad and Tobago is situated between San Juan and St Joseph in east Trinidad. Within minutes from top performing primary schools. St Joseph Convent and St Augustine Girls are within a one mile radius.
SBCS and Arthur Look Jack are within walking distance. UWI is only a 5 minutes drive on the priority bus route. Mt Hope medical complex is a stone throw away. Grand Bazaar and Valsayn Shopping Plaza are perfect for shopping and avoid the hassle of going into Port of Spain
Searches related to champs fleurs home for sale east trinidad
mendez drive champs fleurs home for sale
champs fleurs trinidad and tobago
home for rent champ fleurs trinidad